Alpha Mono S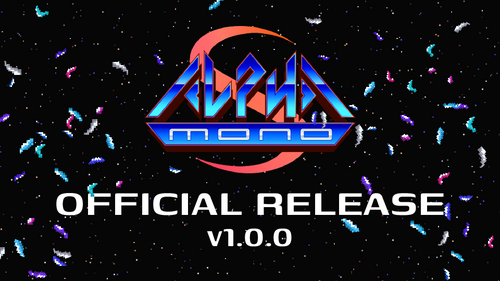 I'm super pleased to announce the official release of Alpha Mono S—the first Maigi Games... game! Many hours of work and consumed snack bars went into the design, programming, music, and art for it. Development was challenging and I'm excited to finally share it with the world. I think the gameplay will resonate with a lot of retro enthusiasts who enjoy roguelites, shmups, and old-school arcade games. I call Alpha Mono S a shmuplike because it's a bit hard to pin down exactly what it is.
Special thanks to the creators and contributors of Kaboom; without this fantastic library, the project could not have existed the way it is. I'd also like to thank the Kaboom Discord community for their kindness, help and support.
In case anyone is wondering, I've chosen to not sell this game for a few reasons:
At this time, Maigi Games has virtually no online presence. I failed to talk about the game on social media during development. I didn't establish any community and there's nobody to hear a "BUY MY GAME!" battle cry for the release. I spent all the time working on the game instead of talking about it to anyone (except patient friends and family). Lesson learned!
I'm not interested in going down the free demo/full game on Steam like similar games. Although I've really enjoyed building this game, I'm looking forward to working on a new project
It's my first game! There are bound to be a few hiccups and I'd like to make sure I'm putting out top notch stuff if I'm going to ask you to pay for it
I thought it would be nice
I plan to eventually add more content to this game and will address bugs I become aware of. For the most part, this is the complete game. It's not the longest game in the world but there's a learning curve. I think it strikes a pretty good balance of reward and difficulty.
I hope this game will help Maigi Games reach a wider audience and players share it around. I'm also a millennial and require hugs (mostly the digital kind in 2022) in order to continue operating effectively so if you enjoy playing this game please follow Maigi Games on the blue bird tweedlez network for news on upcoming projects.
I'd appreciate any feedback once you've played. Please remember to rate and comment if you have a moment. Thanks for reading and enjoy blasting some baddies!
- Maigi